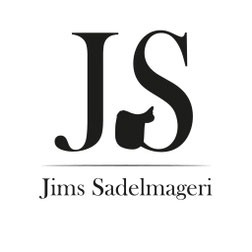 I am very happy to announce my new sponsors. Arius Icehorse line and Jim's Sadelmageri will from now on support me and my horses. Jim is making high quality saddles and can adjust and fit them to you and your horse just as you want it. They also now have bridles in many variations that you can chose the best for your horse. Arius.dk provides you with great horse equipment! Links  to their shops on the sidebar!
---
18/19.1.     Salzburg
25/26.1.     Frankfurt
1/2.2.          Linz
14-16.2.      Burgenland
29/1.3         Salzburg 
14/15.3.      Brædstrup
21/22.3.      Hannover
28/29.3.      Linz
10-12.4       Spiegelau
18/19.4.      Burgenland
Few places for training from 1st November on!
I offer starting horses, basic and further specialized training, correction, preparation and showing both in sports and breeding also combined with teaching. 
The horses are stabled at the beautiful Bakkegården near Silkeborg with super facilities (riding hall,oval track), great food quality, paddocks and meadows during the day and just next to Linå Vesterskov, which is perfect for riding out. 
I'm a level 3 trainer and sportjudge with lots of experience, was many years in the German National Team and competed on World Championships both in sports and breeding.
My training is very individual according to the horses needs and level of education as well as the owners wishes. 
The training is focused to have a happy and healthy horse that is relaxed, willing to work, supple and light on the aids. 
For more information just send me a PM or contact me via Telefon/message: 53 70 90 53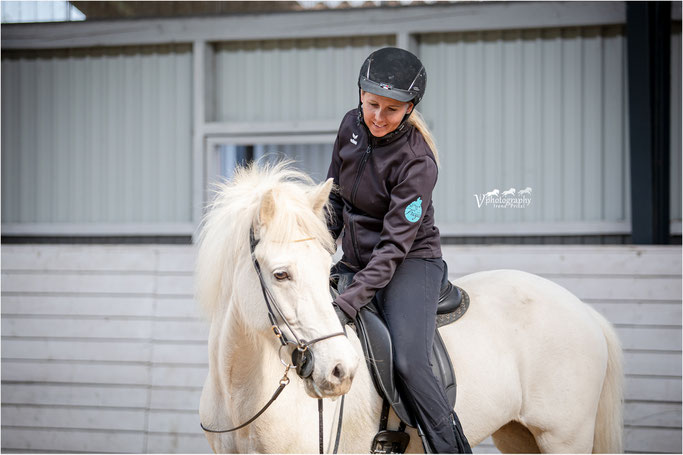 Kurser fra Januar til April 2019
Individual tölt kursus  19/20.1.19
Max 6 deltagere
Gymnastiske / dressur øvelser for at forbedre Tölten.  
2 lektioner / dag inkl. Teori lørdag aften samt aftensmad. 
1600 kr. 
Longering Kursus dag. 26.1.19
Teori og demonstration af longering
Korrekt brug af udstyr 
Teknik og overvejelser 
Efterfølgende longering i grupper af 2 
Begrænset antal heste som kan lånes 
Max 12 deltager
800kr
Bliv klar til stævnesæsonen 2019
Vi tilbyder tre weekend forløb 1-3 februar og 1-3 marts og 26-28 april med
Freija (FEIF træner level 3, sports dommer A) og Nicolai Thye (FEIF international sports dommer, VM dommer 2019)
1-3. Februar Kursus
Vi starter fredag aften med teori omkring dommervejledniger og fokus på vintertræning, generel forbedring af gangarterne og smidighed og forberedelse til sæsonen (valg af klasser) og planlægning af sæsonen. 
Undervisningen er både for nybegyndere og erfarne konkurrenceryttere. 
1-3. marts/ 26-28.april Kursus
Vi starter fredag aften hvor vi går mere i dybden med
Der rides to enkelt lektioner henholdsvis lørdag og søndag. 
Max. Deltager antal 8 personer 
Pris 2000 kr. 
tilmeld inden jul og få 10% rabat!
Kursussted: Bakkegården, Lavenvej 3, 8600 Silkeborg
Undervisningen er på engelsk ( med danske ord hvis det er nødvendigt ☺️) 
Tilmelding er bindende ved betaling af kursusgebyr
At the moment I have some nice horses in training that are for sale.
Don't hesitate to contact me, maybe it is the horse of your dreams!  +45 53 70 90 53
---
If you are interested in a riding clinic in Germany or Austria, here are some dates. It is not yet all, but the list will be updated.
Look at the list here....
---
We're back from great days in the Netherlands. A great competition that was super organized and made it amazing for horses, riders and spectators!
Elfa did well and ended up on 5th place and confirmed her previous judgement. 
I want to thank all the people that supported us! Here are a few pics both from VI_photography and Neddens Tierfoto...enjoy 
There's a nice interview online about Elfa-Freyja on the popular blog miia.at from Katharina Brandel. 
You can read it (only in German)
here
I am now in Denmark and offer to take horses in training and give private lessons/courses on all levels. 
I'm located shortly west of Aarhus. 
My pricelist is available here.
I'm looking forward to hear from you.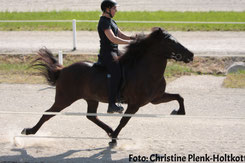 I'm proud to be a member of the Austrian team this year. My mare Elfa-Freyja von Fürstenbrunn will represent the 6-year old mares in Oirschot!
We are excited to go there! See you in Oirschot!
18/7/13   DIM 2013
Silver Medal in T2 with 8,12!
And selected as reserve rider for the German National Team at the WC!
I am truly very happy :))
Thank you for all your support!
As well Spoliant vom Lipperthof and Ás-Sjoli von der Igelsburg will represent Germany as breeding horses at the WC! and pretty Snaedís was only 0.01 points away from 1st place! I am really proud of them!
Thanks to Claudia Achilles for the nice pics she took!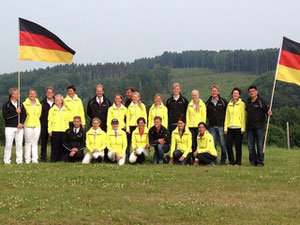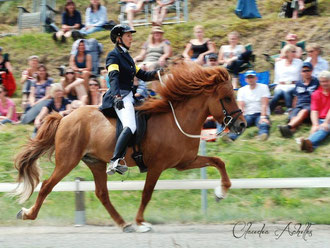 19/6 13
Now Blettur and I are back home from the 2nd qualification tournament in Neuler. We decided only to focus on T2.
Which turned out to be a good decision :)
We got 7.90, a new personal best and first position in the preliminary.
Sunday came and in the afternoon the A-final.
We started in the free tempo. Blettur with alot of power and high action was rewarded with several 9´s and 8,5´s ending with a score of 8,67
Then the slow steady and calm tölt, we received there 7,5 - 8 and a total of 7,67
Change of rein and then loose rein tölt.
This went well, blettur always feels well in the track with more horses.
And rewarded with several 8´s and a total score of 7,67
Totally it meant 7,92 and first place :-D
i´m very happy with the way Blettur and I performed. There is still room for improvement. I know we can do even better and will work hard the coming weeks to do so at the German Championships at Töltmyllan.
Freija 
1/6 13
I´m very happy to now be part of Team Hrímnir!! www.icesaddles.com
1/6 13
I´ve now decided to take the next step and become self employed from august on :)